I'm sure you've seen it before: Some brand wants you to submit a photo for their upcoming photo contest.
Sometimes the purpose is clear, like when Gerber was looking for their 2021 "Spokesbaby", or when Downtown Boulder was trying to entice visitors and promote commerce after the COVID-19 lockdowns were relaxed.
But running a photo contest isn't just for global brands or mile-high cities.
If you have an audience you're trying to reach, a photo contest is an easy and effective way to engage them.
Here are 5 great reasons to run a photo contest:
1. It Engages Your Community (Audience)
A photo contest is sure to get the community involved. Who doesn't love a great photo?
If you've spent any time at all on Facebook or Instagram (and of course, we all have), then you know there is no shortage of pet photos, incredible landscapes and delectable food photography being shared.
Let's face it – people LOVE to share their photos. Stay relevant and in the forefront of your audience's mind by tapping into that photo-love.
2. Anyone Can Participate
Do you have a smartphone?
Really, it's a ridiculous question… because nearly 80% of the population in the United States owns a smartphone.

When you take into account the age ranges of our population and exclude those too young to use a smartphone (we're lookin' at you Gerber!), that means nearly every teen, pre-teen, and adult that has a sophisticated device is capable of taking photos with the phone in their pocket.
I won't downplay the capabilities of these phones, either. The cameras built into our phones are AMAZING and taking stunning, magazine-worthy photos.
Get the whole family involved in a friendly community competition. It is sure to increase virality. "Friends of friends of friends", right?
3. It Drives Traffic
A contest is sure to generate a buzz. All those entrants and voters need a place to go to participate. This will drive traffic to your website, Facebook, Instagram or wherever you're collecting nominations and votes. (P.s. if you're looking for a nomination and voting platform for your photo contest, check out VoterFly)
Your online presence is a virtual billboard. Use it!
Do you have something you need to promote? How about an upcoming event or a cause? Or maybe you're just looking to gain new followers and build your contact list.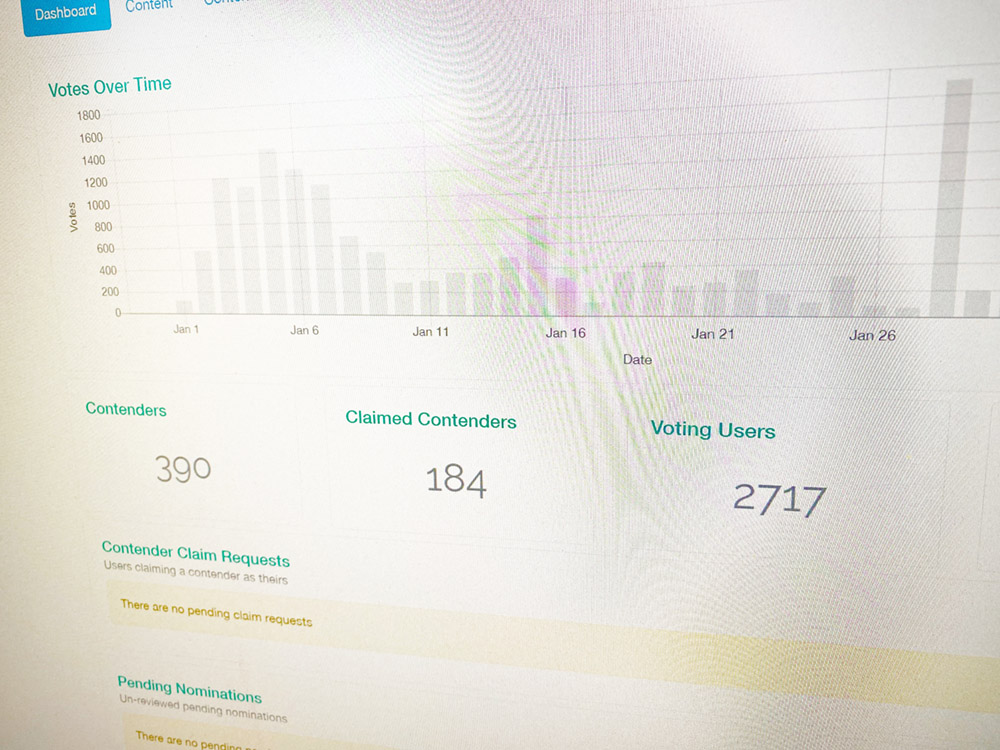 Whatever the case may be, make sure you're prepared by updating your website, social media, etc. to take advantage of this new traffic. Encourage those visitors with a call to action button:
Examples:
Sign up for our newsletter
Learn more about our cause
Buy tickets to our next event
etc.
4. Generate Revenue
With all that traffic, you have a lot of eyes on your content (well, the community's content also, don't get too possessive!).
Offer up an ad spot – Businesses are always looking for new ways to get in-front of their next potential customer. Ads are a great way to bringing visibility to their product or offering.
Contest sponsorships – perhaps it's a business or organization that is looking to generate awareness and reinforce brand recognition. These are a great opportunities for sponsorships which can bring in significant revenue in one fell swoop. Moreover, sponsors who are well known in the community can raise the "bar" of the contest and its reputation even further.
Pro-tip: check out Joe Water's guest post on WildApricot "Getting Sponsorships Like a Pro"
Regardless, don't miss the opportunity to monetize your photo contest by offering opportunities with your newfound traffic.
There are countless ways to deliver value to your advertisers and sponsors. Here is a (very) short list of ideas:
Include logo or ad on website & social media.
Tag & post about advertiser / sponsor.
Include advertiser / sponsor information in e-blast communications.
Invite sponsor to participate and speak at the next in-person event.
Feature the winning photo(s) and watermark them with the sponsor's logo.
Theme the photo contest around the sponsor's area of expertise.
5. Collect Leads & Contacts
Now that you have all this new traffic coming in, turn those nominees and voters into contacts for your database.
Collect contacts via opt-in subscription forms on your nomination & voting landing pages. (SECRET PRO TIP: This is another way which your sponsors can also gain leads as well.)
Note: Make sure you're following regulations with opt-in requirements.
Conclusion
There are so many different direct and indirect advantages to running a photo contest. Every organization has different opportunities far beyond what was mentioned here, but this list highlights some of those opportunities and connections that are applicable to almost all organizations.
Be sure to come back for more posts in this photo contest series, that will provide important details about all aspects of running your own community photo contest. Collect ideas for unique contest categories, learn how to gain virality, and find out how to monetize your contest.
If you want to learn more about using VoterFly to run your next photo contest, reach out to us at info@voterfly.com or fill out our contact form here