Friendly competition. It's good for sales teams, company culture, driving innovation, making for interesting reality TV shows, and your community. Competition is what the free market is predicated on. It keeps prices low and creativity high. And it's also the secret sauce that could get your entire business community interacting with your chamber, whether they're current members or future ones.
Have you ever attended a sporting event or rooted for someone in a movie or on a TV show?
Then you understand the power behind competition and the desire to see "your side" win. When you set up friendly competition in your community in a "Best of" contest or Business Awards event, you're inviting people to support your community businesses in a much more exciting way than simply asking them to patronize the business. When you ask for a sale, it's a single transaction. When you host a "Best of" competition it builds a habit or commitment of support.
What is a "Best of" Competition?
A "Best of Race" or competition is a crowd-sourced award program that highlights individuals, organizations, events and more. They can be hosted as standalone events (as in a business awards ceremony) or part of a larger celebration like Restaurant Week or a Taste of event.
They can even be hosted entirely online without an event.

Because there's a voting component in these contests, participants feel invested and call upon others to vote too. These types of events can also be a terrific source of non-dues revenue for chambers and other organizations.
"Best of" contests go by a lot of names such as:
Business Excellence Awards
People's Choice Awards
Chamber Awards
Awards Gala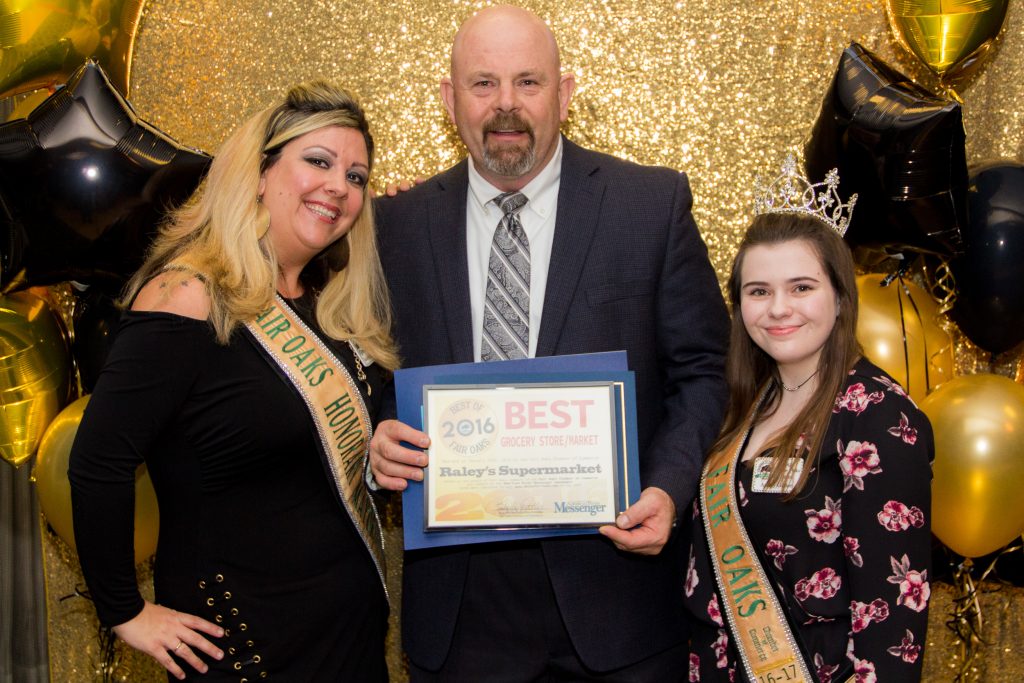 How Chambers Use Best of Awards
It's likely you're already doing this in some capacity. When you post to Facebook and ask your audience about their favorite coffee shop, you are hosting a "Best of" Awards event, albeit a very casual one.
Did the interaction you received surprise you?
People love to provide their opinion. But on social media, you also have trolls. You may have been surprised to see negative comments. With a formal "Best of" award event you're cultivating friendly competition and can bypass the trolls and negative Nellies.
This type of event highlights community businesses, events, and/or individuals in various categories. Most chambers use between 10 – 60+ categories to ensure a good representation of the business community. There is no one-size-fits-all list of acceptable categories. Select award areas that will have multiple contenders and make the audience curious about who will win. Many chambers include designations such as "Business Person of the Year," "New Business of the Year," "Best Pizza," and others.
Now that you know what these events are, let's talk about the benefits of implementing a "Best of" event at your chamber.
7 Amazing Benefits of Business Awards for Chambers and Their Communities
As mentioned earlier, competition makes people feel invested. It creates excitement. Yet, some chamber pros worry about the administrative headache of coordinating a voting event. It's much easier than you imagined and worth the time you would spend.
"Best of Awards" do the following…
1. Showcase the Stars in the Community
The community awards provide a platform to showcase businesses in a variety of industries and stages in their development. A Newcomers Award, for instance, could create buzz around a new business and bring them additional revenue and interest. A Best Specialty award (like Best Pizza) can drive people to try a business or may cause a friendly rivalry that drives sales.
An award from the chamber can also boost a businesses reputation or standing in the community as it can be seen as an endorsement. Your website and promotion of the awards race will also provide free promotional tools to the nominees. Plus, with links and business stories on social media, you're bringing them additional web traffic with no cost to them.
2. Add Value for Chamber Members
If you wanted to create an award event that honored only chamber members, you could create a "velvet rope" scenario in your community. "Velvet rope" is named after a technique nightclub owners employ in their VIP section. They often don't sequester a VIP section away where no one can see it. Instead, they use a "velvet rope" to cordon off a section for VIPs that everyone can see. The reason they do this is simple to understand. Out of sight can mean out of mind. If no one is thinking about the VIP section, no one is paying to enter it. On the other hand, when people see this special section, they want to be a part of it. When people see your nominations, they'll want to be a part of that as well.
If you limit your "Best of" awards to your members, people will want to be a chamber member so that they can be considered for this elite designation.
If, on the other hand, you make the award nomination open to everyone, you now have a lead list of engaged businesses that you can contact to join the Chamber. Often this method results in new Chamber membership.
The award event also gives businesses an extra marketing edge. It's a distinction to be nominated and provides them with an opportunity to call on their supporters to vote. Most people enjoy helping and will do so when asked. If the business is then selected as a winner, they can claim their title in their marketing–another bonus for them.
3. Can Easily Be Incorporated into Other Events
A "Best of" Award event can easily fit alongside your already busy Chamber calendar. You needn't create a new event. In fact, you don't even need to have an in-person event at all, unless you want to.
You could do it all online (like a Pet or Baby Photo Contest) if that was your preference. No physical space required unless you wanted to host an awards presentation.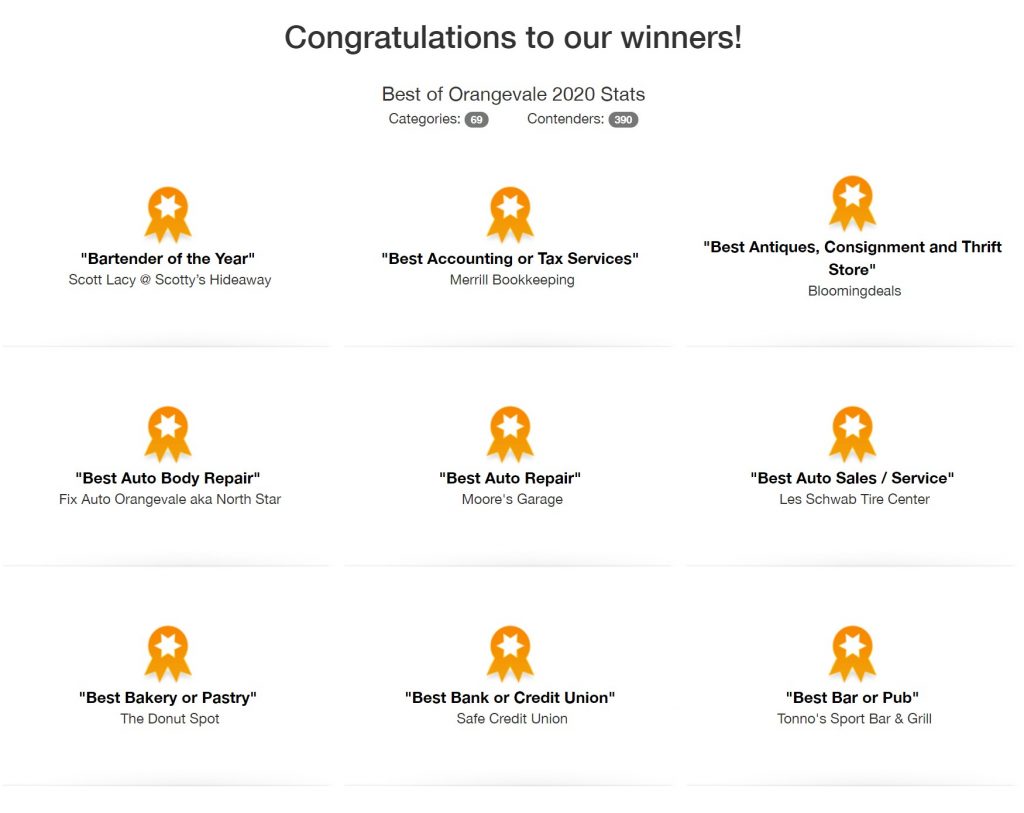 "Best of Award" events can add another layer of excitement to something you're already doing. Add it to your existing Member Appreciation Dinner or Year End Celebration or even your 4th of July celebration. You can also use it on a micro level. For instance, if you run a Farmers Market or Artisans Fair, you can add a "Vote for Your Favorite Vendor" component to the event.
4. Create Brand Awareness / Community Reach for the Chamber
The award event is yet another way to link the chamber to the best businesses in the area. This symbiotic relationship is good for both sides–the chamber and the business. You present them with an award, they attach that positive outcome and reputation to you. That can be a very strong loyalty builder.
5. Opportunity for Support
Calling for your community to support your area's businesses is a popular call to action these days but a "Best of" event allows everyone to show some love, regardless of their budget or ability to make purchases. Hosting an awards event gives your community an opportunity to show support and love for their favorites. It feels good for everyone involved.
6. Generate Contacts and Sales
If you choose to open up nominations to the general public, you can generate contacts / leads with the businesses that are nominated as well as others in the community. People are more receptive to your message when they feel appreciated and you've brought extra attention to their business. It's also an effective way to win back former members or those you connected with previously.
7. Give the Community a Morale Boost and Something to Celebrate
COVID hit many businesses and communities hard. Businesses were shut down. People were restricted and didn't want to be in crowds. Hosting an awards ceremony or celebrating businesses within your community can be a beautiful way to reiterate that your town is (again) open for business. If your area needs a morale boost or something to celebrate, a "Best of Awards" is an ideal feel-good event.
Easy "Best of" Chamber Software
here are many benefits to your chamber in running a "Best of" awards event. But it won't feel like a benefit unless it's easy too. Sure, you can send something out in MailChimp or Constant Contact or use a poll on Facebook but none of those solutions are easy and there's a lot of administrative headache in tracking things that way.
You need a software solution that is easy and provides a great return on investment. In addition to the benefits mentioned above, VoterFly you can help you create new sources of non-dues revenue as well as increase your dues revenue through:
Bringing in additional revenue through a user-friendly ad sales platform
Increasing sponsorship revenue
Converting ex-members (or attracting new ones) for increased dues revenue
Want to learn just how easy a "Best of" competition can be?
Contact us today for a quick intro into how you can start reaping the benefits of award competitions right away.